Funeral Flowers
A funeral for a friend or loved one can be difficult. PONTI'S PETALS from of Dunellen, NJ can help begin the healing process. Flowers provide the opportunity to express how much the departed means to you. Celebrate the life of your loved one with one of the beautiful floral arrangements found here such as: Our Heart Felt Memories, Our Sympathy Tribute or one of our Standing Sprays.
Browse our funeral flowers page to find the perfect sympathy arrangement and place your order online. You can also call and speak with a designer at PONTI'S PETALS for custom designs as unique as your loved one.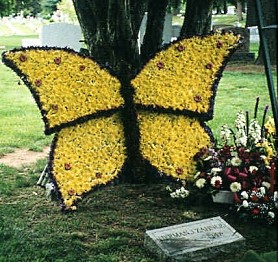 The family who requested the butterfly later wrote Kathy which included the following comments,

".... an extra special Thank you for the most beautiful Butterfly -
Butterflies were special to my mother as well as to us.
It was truly a magnificent work of art. Our Sincere Thanks......."

Funeral Homes in Our Delivery Area:

| Name | Address | Phone |
| --- | --- | --- |
| Mundy Funeral Home | 142 Dunellen Ave Dunellen, NJ. 08812 | (732) 968-2626 |
| Sheenan Funeral Home | 233 Dunellen Ave Dunellen, NJ. 08812 | (732) 968-4227 |
| Shanti Bhuvam Hindu Funeral Home | 21 E 2nd St Bound Brook, NJ. 08805 | (732) 356-0216 |
| Taggart-Chamberlain Funeral Hm | 305 E High St Bound Brook, NJ. 08805 | (732) 356-0327 |
| Middlesex Funeral Home | 528 Bound Brook Rd Middlesex, NJ. 08846 | (732) 968-3377 |
| Piscataway Funeral Home | 18 Stelton Rd Piscataway, NJ. 08854 | (732) 968-2828 |
| Brown's Funeral Home | 122 Plainfield Ave Plainfield, NJ. 07060 | (908) 756-4241 |
| Higgins Home For Funerals | 209 W 8th St Plainfield, NJ. 07060 | (908) 756-0017 |
| Judkins' Colonial Home | 428 W 4th St Plainfield, NJ. 07060 | (908) 756-4429 |
| Scarpa Funeral Home Inc | 22 Craig Pl Plainfield, NJ. 07060 | (908) 756-2693 |
| Rossi Funeral Home | 1937 Westfield Ave Scotch Plains, NJ. 07076 | (908) 322-8038 |
| James W Conroy Funeral Home | 2456 Plainfield Ave South Plainfield, NJ. 07080 | (908) 756-2800 |
| Mc Criskin Home For Funerals | 2425 Plainfield Ave South Plainfield, NJ. 07080 | (908) 561-8000 |
| Higgins Home For Funerals | 752 Mountain Blvd Watchung, NJ. 07069 | (908) 756-0017 |